Mango
TransGraph has been actively providing seasonal market intelligence service for Horticulture products like Mango. Mango being a seasonal tropical crop with high dependency on climatic conditions in the growing belts, players in the trade need to have robust market intelligence and price direction during the season.

TransGraph has been supporting the Industry players like processers, traders and large FMCG companies by providing them with seasonal updates and market intelligence during the season.

Our clients use our service to estimate the crop produce for the season, arrivals in various mandis & farm levels, discover prices during the season at various mandis. Due to neutral perspective, our market intelligence reports serve as a double check on prices being quoted by their vendors as well.

Our clients use service in negotiating agreements with vendors and have been success fully saving 4-5% on their procurement costs.

Our Mango Market intelligence service coverage is as follows :

Alphonso – Ratnagiri, Sindhudurg, Hubli-Dharwad, Bengaluru, Valsad-Navasari

Totapuri – Krishna (Nunna), Dindigul-Theni-Madhurai (Tamilnadu),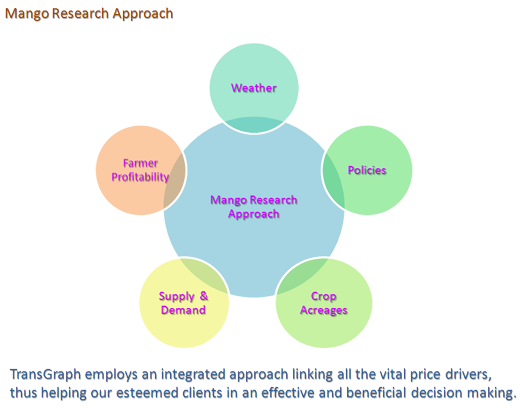 Clients can subscribe to our Mango Market Intelligence service and receive reports during the season as follows:
Reports
Pre Season Market Intelligence Reports
Explore more...
Testimonials
" I am writing to extend my thanks for the research and price forecasting services provided to us on a daily basis by Transgraph. The reports and information whether they are emailed to us daily or sourced via your website portal, are a consistent and reliable source of quality information. Our industry is one where information and its dissemination can help in differentiating between suppliers."
- Scott Yarwood, Sr. Regional Sales Manager, ADM Trading (UK) Ltd.
" This is to state our appreciation for Transgraph for continuously delivering on its mandate to provide updated and insightful consulting services in the area of commodities and ingredients. I would also like to thank your team that is always in touch with buyers and feeds in relevant information that has been many times useful in decision making. In nutshell, the engagement with Transgraph has been enriching."
- V. Sridhar, Sector Manager, Commodities & Ingredients, Cadbury India Ltd.
" By helping simulate the risk scenarios beforehand, TransRisk has added immense value to our trading decision making process at the operating level. The scenarios are comprehensive because one is able to view the basis and rollover risks associated with the hedged positions too. TransRisk also serves as good Dashboard for the top management, as it gives exposures, P&L, associated risk, limits all at one place."
- S Sivakumar, CEO, Agri Business, ITC Limited
" At risk framework and imputed risk model of TransRisk are definitely forward looking and will enable us to move away from 'post mortem' approach. We can take a business decision of pricing our contracts or purchasing in advance after factoring in a quantifiable and acceptable risk instead of trying to find reasons for the breach of limits."
"A flexible and scalable business intelligence that gives exposures, P&L, associated risk, limits all at one place and this decision support system can be integrated with our existing ERP and will avoid duplication of data entry."
- Jude Magima, ED – Sourcing and Supply Chain, Dabur India Limited
" Transgraph has showcased that 'Risk Management' is an excellent tool which will help any sourcing organization to deliver in any and even during challenging business scenario. They have succeeded in creating a deeper, specific and relevant input to the automotive sector. Highly recommended, the course was extremely detailed but the faculty made it so easy to understand - Top marks."
- S.R. Rajan, Vice President-Commercial, TVS Srichakra Limited.
Features
Features
Daily Market Intelligence
Weekly Market Market Intelligence
Pre-Season Market Intelligence
End of Season Market Intelligence
Coverage
Indian Mango market
Indian Mango market
Indian Mango market
Indian Mango market
Fundamental summary
Critical fundamental Factors; Fundamental outlook Index
Critical fundamental Factors; Fundamental outlook Index
Critical fundamental Factors; Fundamental outlook Index
Critical fundamental Factors; Fundamental outlook Index
Price Direction
Alphonso(Konkan, Hubli-Dharwad,Valsad & Bangalore) & Totapuri(Chittoor, Bangarupalem, Damalacheruvu, kodur, Rayachoti, Krishnagiri, Dharmapuri, Dindigul, Theni, Kolar(Srinivaspura,Tumkur): Price Direction Forecast
Totapuri(Krishna-Nunna,Dindigul,Theni,Madurai. Alphonso(Ratnagiri,Sindhudurg,Hubli-Dharwad,Bangalore): Price Direction Forecast
Alphonso & Totapuri: Price Direction Forecast
Alphonso & Totapuri: Price Direction
Price range forecast
Price Range: 1 week
Price Range: 1 week
Price Range: 1 week
NA
Latest Strategy
NA
NA
NA
NA
Fundamental analysis
Comprehensive fundamental analysis
Comprehensive fundamental analysis
supply & demand, productive acreages, production & consumption scenario, crop acreages, important events that could affect the Mango prices, inventories, weather
supply & demand, productive acreages, production & consumption scenario, crop acreages, important events that could affect the Mango prices, inventories, weather
Calendar
Key Economic & Fundamental Data
Key Economic & Fundamental Data
Key Economic & Fundamental Data
Key Economic & Fundamental Data
Facts & Figures
Most important market data
Most important market data
Most important market data
Most important market data
Audit
Period
% Deviation between actual and projected mango prices
2011
2008-11
Alphonso Mango Market Intelligence Reports
0.85%
2.89%
Totapuri Mango Market Intelligence Reports
3.41%
0.18%